Welcome to Mount Kenya University (MKU), a fully fledged chartered university committed to a broad-based, wholistic and inclusive system of education. The university also offers a wide-range of academic and professional courses, through various flexible modes that include E-learning, evening classes, weekend classes and Distance and Institution Based E-Learning (DIBeL).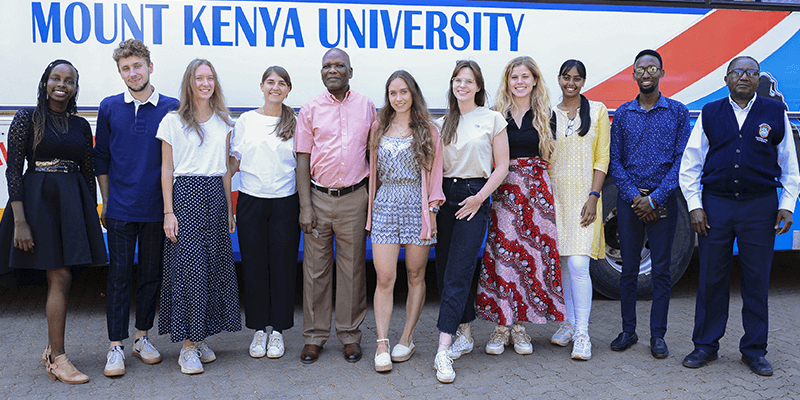 MKU has Footprints in:
KENYA, UGANDA, RWANDA, BURUNDI & HARGEISA-SOMALILAND
We have the following campuses and study centers in Kenya: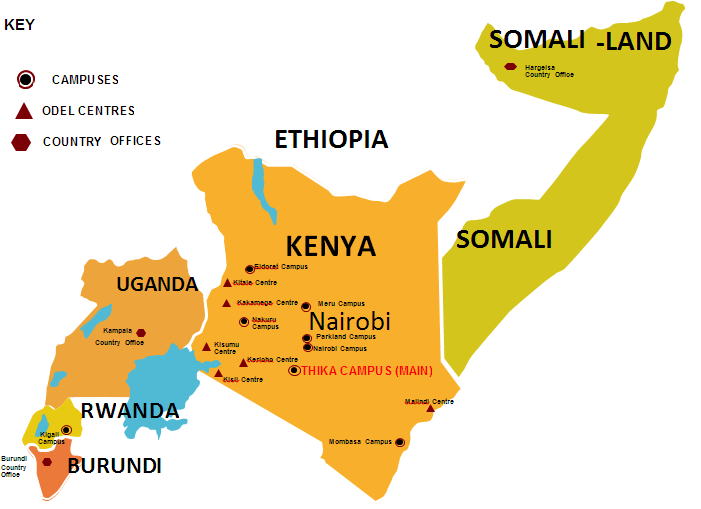 Main Campus, Thika
Nairobi Campus
Nakuru Campus
Mombasa Campus
Kakamega Campus
Eldoret Campus
Nkubu/Meru Campus
Kisii Campus
Malindi Center
Kericho Center
Kisumu Center
Nyeri Center
Obtain a student pass (7 essentials steps)
Register with eFNS portal
The process is done online from the online immigration portal fns.immigration.go.ke
Note: Applicants should create their own accounts for efficient tracking of notifications and invoice(s).
This to be facilitated from the International Students Welfare Coordinator Office.
Apply for student pass
The Process is done online; the applicant after completion; has to print out the form 30 and attach it with the required documents.MOUNT KENYA UNIVERSITY IMMIGRATION file number: R 945706
NAME OF THE PRINCIPAL: ACTING Registrar, Academic Affairs
Submit student pass application
The required documents to be submitted at the International Students Welfare Coordinator and to be confirmed from the checklist before submission before a cover letter is given from the Registrar Office.
Obtain notification of approval
Once the student pass is approved; the applicant receives a notification about the amount to be paid and the deadline for payment. (Currently East African origin Students are exempted from the student pass fees payment)
Pay for student pass fees
The payment is made online from the efns account (payments section) and an invoice is generated after the payment; to be submitted at the immigration.
Obtain a student pass
The applicant receives a notification once the student pass is issued and ready for collection.
Student pass endorsement
The student pass once collected; must be endorsed in to the passport of the applicant from the immigration office
Application for a Student/Research/Internship Pass
Kenya Student pass
This is a document issued to applicants (foreign students) (section 30(1) of the Kenya Citizenship and Immigration Regulations 2012, who wish to pursue their education in Kenya's Education or Training Institutions where they have been accepted or admitted. The applicant (foreign student) must be accepted as a student by an approved Educational or Training Establishment.
Kenya Intership/Research pass
This is a document issued to person(s) seeking to enter and remain in Kenya for the purpose of undertaking Internship or an academic research within kenya. The applicant must be accepted as an intern or researcher in an institution within Kenya.
What are the requirements?
Kenya Student's Pass Requirement
Signed commitment letter from the sponsor – both new and renewal cases
National passport copy of the sponsor – both new and renewal cases
Proof of funds for self-sponsored students – both new and renewal cases
Copy of a valid national passport both new and renewal cases (the bio-data page)
Current immigration status for the pupil/student- both new and renewal cases (If in the country)
Two (2) recent passport size color photos. – both new and renewal cases
Duly certified Copies of basic academic certificates for those joining Tertiary Institutions and Universities -new cases
Copy of the school's/college registration certificate from the Ministry of Education – new cases
Certified copies of progress report/transcripts obtained(by the issuing institution) -for renewal cases
Copy of student's pass previously held -for renewal cases
Police Clearance Certificate from the country of origin, or if a resident, from the Kenya Police Service
Copy of Checklist. click here to download
Kenya Internship / Research Pass Requirements
A duly filled, signed and stamped application Form 30, by the institution's authorized personnel (Both new and renewal cases) . You will print out the form at the end of the application for a Student pass. In case you want to reprint your application form, you can do so by going to "My Applications" section here
Detailed and Signed cover letter from the institution indicating the internship or research topic to be pursued and the duration and should be addressed to the Director of Immigration Services
Copy of a valid national passport (the bio-data page)
Current immigration status of the pupil/student(if in the country)
Two (2) recent passport size color photos
Duly certified copies of academic certificates and CV
Documents in foreign languages should be translated into English by either the Embassy, Public Notary, or authorized /recognized institution
Copy of research permit from the National Council for science and Technology for those undertaking research programs
Police Clearance Certificate from the country of origin, or if a resident, from the Kenya Police Service
Copy of Checklist. click here to download
How to apply
You need to:
Create a log in account within the Government of Kenya Single Sign on portal
Log in using the account you have created above to access eFNS portal
Once logged in the eFNS portal, select the "Apply now" Link
Click on the "Submit Applications" tab and select the Student pass tab. If you are already logged in to eFNS, you can click here to make an application.
After your application is approved, an invoice will be generated which you can see by clicking on "Dashboard" then "Payments" Tab. If you have already logged in eFNS, you can click here to make a payment.
If unable to pay using any of the online modes, print your invoice by clicking on "Dashboard" then "Payments" Tab (If you have already logged in eFNS, you can click here to print your invoice). Present your invoice and Banker's cheque at the Immigration Counter at Nyayo House, Nairobi for payments
You shall receive automatic notifications via email and on your online account about the progress of your application
Disclaimer
Incomplete applications will not be accepted.
Engaging in any form of business or employment without a requisite permit or pass is an offence.
Application print-outs must be presented to the Immigration headquaters
It is an offence to receive education or training at any educational or training establishment within Kenya without a pupil's / student's pass (section 30 (7) of the Kenya citizenship and Immigration Regulations,2012)