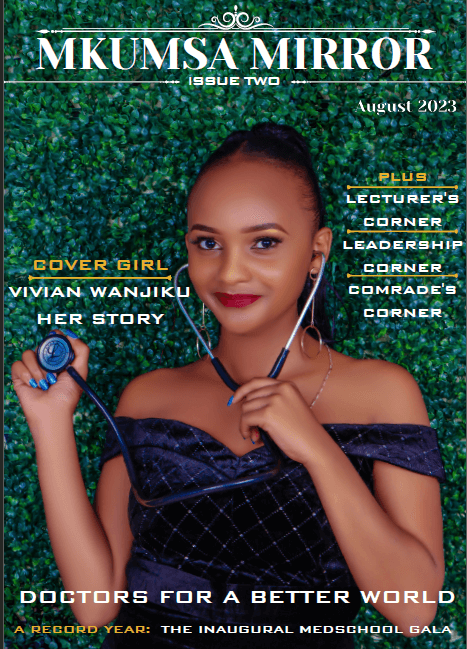 The second installment of the MKUMSA MIRROR isn't just an assemblage of articles; it serves as a mirror reflecting the myriad experiences, challenges, and accomplishments of the medical students at Mount Kenya University. Within its pages, you'll delve into topics ranging from mental health, research endeavors, career guidance, and community service, among others. Moreover, the magazine is adorned with compelling narratives of students who have surmounted obstacles and shone brightly in their academic pursuits and extracurricular engagements.
Included within this release is the inaugural edition of the MKUMSA MIRROR, enabling you to trace our journey as an association. The first edition launched amidst the throes of the COVID-19 pandemic in 2021, encapsulates stories of resilience, innovation, and camaraderie among our medical students. It spotlights the pivotal role of MKUMSA in championing the rights and well-being of its members, while also providing fertile ground for learning and networking.
We extend our warm invitation for you to savor the contents of the second issue of MKUMSA MIRROR and to acknowledge the diligent efforts and artistic flair of our editorial team and contributors. Furthermore, we encourage you to share your invaluable feedback and forward-looking suggestions with us at mkumsapublications@gmail.com. Feel free to contribute your own articles, photographs, poems, or artworks for upcoming publications. We aspire for this magazine to serve as an inclusive platform, allowing all medical students to articulate their voices and showcase their talents.
"Nil satis nisi optimum."
Download MKUMSA Mirror : https://studentlife.mku.ac.ke/mkumsa-mirror-2nd-issue/
Compiled By: Jared Ronoh, Editor-in-Chief.