In an engaging conversation with MKU's very own renaissance man, Kebira M. Erick, we delve into his life as a family Man, Medical student, MKU Vampires Coach and a charitable soul. Below he shares his insights and story.
A medical student, a hockey coach, and a charitable soul, Coach Erick's journey is nothing short of fascinating. As he shares anecdotes from his high school days when hockey first caught his attention, we learn about the profound impact of his first coach and how it influenced his life's trajectory. Discover the challenges he faces in managing his time between the hospital, the hockey pitch, and his family, all while pursuing his medical dreams. Moreover, learn about his vision for MKU's hockey team and how he plans to uplift the sport within the university and beyond.
Mr. Eric, also in this exclusive interview shares the rich history of hockey in Mount Kenya University where as a freshman, continuing student and Alumni and Sponsor you can the journey of Hockey in MKU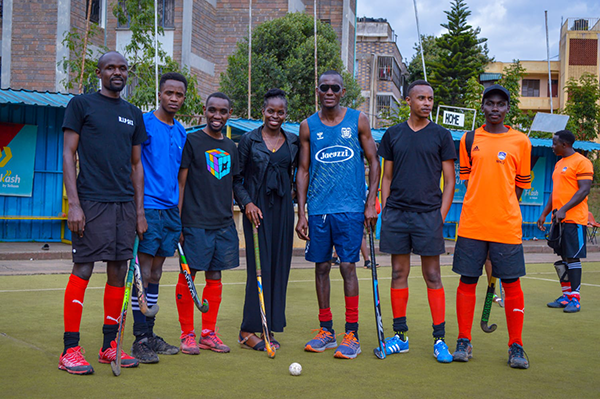 Tell us about yourself
I am Kebira M. Erick, from Kisii County, a registered clinical officer and currently a 6th year pursuing Bachelor of Medicine and Bachelor of surgery at MKU.
What role do you play in MKU Vampires (MKU Hockey Team)
I am the MKU hockey Ladies coach
What are your Hobbies/interests
Playing pool, poker and participating in scouting activities
How did you get into Hockey?
Back in high school 2004 a new sport was introduced in our school at St John's Nyamagwa boys high school.
I was curious about this new sport in the school and the rest is history. My first coach was our high school teacher Mr. Odede who influenced me into liking this sport. Mr. Odede always used to tell us "To become the best hockey player you must be a good dancer" we had to enroll for dancing classes in our school's drama club.
What do you engage in during your free time?
Rarely do I have free time. Medical school studies, working in the hospital, having a family to look after, then coaching hockey. I think my day is packed. When I am free , I use the time to spend time with my family, play and ride bikes with my sons.
Besides hockey what does Coach/Dr. Eric do?
I like doing charity work, thus do volunteer in different courses..
In your own opinion, what can be done to improve hockey
We appreciate the efforts done by the university so far towards this sport, however the following can also be addressed;-
The playing ground for Hockey currently is not a good one, if the university can help in fastening the completion of the hockey pitch that is constructed at the Thika high school chapel, it will be helpful. A good ground makes it easier for players to train and develop.
Purchase more hockey equipment like hockey sticks, if the players get one stick each then it becomes easier for a coach train players.. currently we have a larger number of players hence they are forced to share the hockey sticks, shin guards, a ratio of 1stick to 2 students..
Request the university to register the teams back to the Kenya hockey union league. with more games and playing better teams, then the talent in MKU hockey team can be seen to the world.
Supporting the team to attend tournaments and friendly games .
Role model
My dad – His wisdom is topnotch..
Favorite dish?
Ugali+sukuma wiki+Maziwa mala.
Current book
Zero to One By Peter thiel
Parting shot
Very many little people, in many little villages, doing many little things to help transform the world.
Motto
Train hard, fight easy. Be a brother's keeper.
THE HISTORY OF MKU HOCKEY TEAM
Introduction & History
Mount Kenya University field hockey team dates back to the year 2008; started as a small Men's team which consisted of 6 or 7 players, I joined the team in 2009, during this years the team used to participate majorly in the hockey 7 aside tournaments this was due to the few numbers of players. The team kept on pushing and more players joined afterwards. I vividly remember in 2010 the university bought us our 1st playing kits, this was a big support and motivation to the players, we competed in university hockey tournament at Jomo Kenyatta University of Agriculture and Technology wearing the jerseys with the university's emblem, with our chests out we performed well and finished in position 2. Fast forward in 2011 a new freshman Alfwani Victor joined the team, chosen as our captain did a tremendous job in leading the team to greater heights and he was instrumental to the birth of the MKU ladies team in 2012.
Achievements & Opportunities
MEN TEAM
2009- Position 2 CUEA opens tournament
2010- Position 2 – JKUAT opens tournament
2011- Position 4 – KUSA national playoff games
2012 – Position 8 – KHU national league
2017-Winners SPU Annual tournament
2018- 2nd in the KUSA league.
Position 4 – KUSA national playoffs
2021- Position 3 KUSA national play offs
LADIES TEAM
2018- 2nd position in the SPU annual tournament.
2019- 1st position Thika High tournament senior's category.
2021- Position 3 KUSA national play offs
2022- Position 2 – KUSA women Nairobi confrence
Most improved and promising team 2022/2023 KUSA season.
Individual Achievements
Raphael Hope – called up to the national men team 2012
Christian Nabie – Best player 2019/2020 KHU National league
Bethuel Masambu – called up to the national men team in 2021
– 2022 represented Kenya in African Cup of Nations in Ghana
Christine Omondi – represented Kenya in UN21 Junior Africa Cup Egypt
Doreen Mugambi – MVP- KHU premier league women 2018
-MVP- KUSA women 2022/2023 Season.
David Mwaura – MVP – Mwenyewe hockey festival 2022
Shirley (ladies goalkeeper) 2015 went to Uruguay to represent Kenya and MKU
Challenges
Hockey is an expensive game, thus players share the playing equipment bought by the university which most of the times are not enough to the high numbers of players showing up to train.
The playing ground we use is not up to the standards of the hockey pitch. (We do train at the general Kago primary school football field).
Not participating in the Kenya hockey union national league is a big challenge to us as we only participate in the KUSA league comparing to our university competitors who play in the KHU leagues.
Recruitment & Training
Our recruitment is from the new students who get admitted to the university.
Training- Mondays to Fridays and occasionally on Saturday morning from 4:30pm to 6:30pm
Sponsorship & Alumni
The university is our sole sponsor.
We always say hockey is a small family; we do have a robust MKU hockey team Alumni family that has always had this team in heart. The alumni team provide a support system socially, academically, mentorship and internship links to the current hockey players. On a yearly basis, we do have MKU hockey memorial classic event where the alumni come, play against the current teams, socialize and network.
Two weeks ago, we had our 3rd memorial classic edition and a ladies reunion gala. The event was fully sponsored by the alumni team.
Among the events done on that day were;
The players got the privilege of playing the memorial classic match at the city park hockey stadium astro turf pitch.
The alumni sponsored in buying 22 pairs of shoes to the men and ladies team,
Linked the current players with internship opportunities,
Awarded our best players and those who play for the national team
A fully paid trip to Mount Longonot to 36 players for bonding and physical fitness training.
Donated to the ladies team kitty a good sum of funds.
Many more good things to come like the TECHNO club through the alumni links.
We crowned the event by having a common dinner with the alumni, current players, and in attendance was our sports coordinator Mr. William Luta among other guests.
Internal League/Competition
Currently the team participates only in the KUSA league where the teams are sponsored by the university.
We do participate in different hockey tournaments on self-sponsorship.
On 5th and 6th August 2023 we will have our 1st MKU hockey tournament and we are looking forward to have it on yearly basis.
Compiled & Written by Heri Manyara Email: herimanyara95@gmail.com