Graduation Feature Stories Introduction
Amidst the echoes of cheers and the sentiment of accomplishment, we gather to honor the graduates of this year, whose academic odyssey has been an indelible chapter in their lives.
As we celebrate the Class of 2023 on August 4th 2023 at Happy Valley grounds marking Mount Kenya University's 23rd graduation ceremony since it's inception, in this remarkable series of feature stories, we invite you to immerse yourself in the journeys of these exceptional scholars who, throughout their time at our esteemed institution, they have embarked on a transformative journey of personal growth and intellectual development.
Each graduand carving a unique story through dedication and perseverance. Discover the cities, towns, and villages that have shaped and witnessed their growth and nurtured their aspirations. Beyond the confines of the classroom, we explore their diverse hobbies that have provided solace and joy during demanding times.
Moreover, join us as we delve into the tapestry of co-curricular activities they've embraced, which have molded them into well-rounded individuals with a keen sense of community and service.
MEET KIAMBATI NEWTON MURIMI MKUSA SPORTS SECRETARY 2021/2022.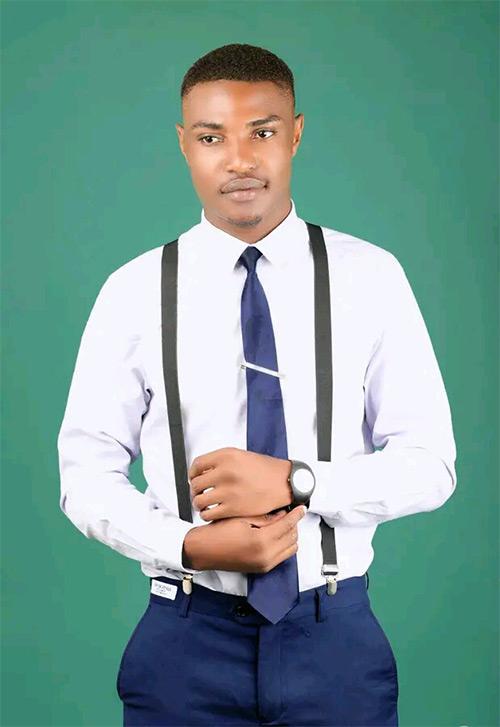 Tell Us More About Yourself
My name is Kiambati Newton Murimi, and I am a science teacher, sports enthusiast, and proud alumnus of MKU. I pursued a degree in Bachelor of Education Science and will be graduating in August 2023. I hail from Mbeu Ward, Tigania West Constituency, located in Meru County.
What Are Your Hobbies?
I thoroughly enjoy engaging in various sports activities, and I take pleasure in guiding others on their physical fitness journey. Motivating people to lead healthier and happier lives brings me immense satisfaction. Apart from sports, music holds a special place in my heart, and I find solace and joy in listening to different genres.
Additionally, I actively participate in organizing community sports programs with the aim of making sports not only a recreational activity but also a source of livelihood for individuals in the community.
Were You in Any Leadership Position and Roles in MKU?
I was privileged to serve the university and the students at large as; –
1. MKUSA sports minister 2021/2022
2. Captain of MKU handball team 2020/2022
3. Delegate 2020/2021
4. Chairman of MKU campuses sports ministers 2021/2022
Did You Have Any Leadership Position Roles Outside MKU?
Yes, I have been fortunate to hold various leadership positions outside MKU, which have allowed me to make a positive impact in the sports community.
As the Founder and Chairman of the Kiambati Sports Foundation, I have been actively involved in promoting sports and its benefits to the local community. Additionally, I served as the Technical Director of the Mount Kenya Handball League, contributing my expertise to enhance the sport's development in the region.
Furthermore, I took on the role of Secretary of the Meru County Football Association, where I played a crucial role in organizing and overseeing football-related activities in the county. As the Assistant Sports Director for the Meru County Government, I had the opportunity to contribute to the planning and execution of various sports initiatives and events.
Lastly, I also had the privilege of organizing sports programs for women as part of the office of the Meru Women Representative, aiming to empower and encourage participation in sports among women in the community.
In a Few Words Describe Your Academic Journey
My academic journey has been nothing short of a blessing. Throughout this path, I have discovered my true strengths in sports and leadership, which have shaped my experiences in the best possible way.
What Was Your Most Exciting Moment in Campus?
One of the most exhilarating moments was the Delegate election of the school of education in 2020, where I ran and emerged victorious. It was a gratifying experience to earn the trust and support of my fellow students.
Another thrilling moment was during the MKUSA sports election in 2021. Being a part of such a significant event and witnessing the passion of fellow students for sports was truly memorable.
Additionally, advocating for new sports kits for students representing the school was a fulfilling endeavor. Knowing that my efforts could enhance the overall experience of athletes at the university was immensely rewarding.
Beyond sports, organizing various sports events to engage and entertain fellow students was incredibly satisfying. Being able to create a vibrant sports culture on campus and keep students active and involved brought immense joy.
Representing the university in sports competitions and leadership programs was undoubtedly a defining experience. It provided me with invaluable opportunities to grow, learn, and showcase my skills on larger platforms.
What Are Some of the Challenges You Encountered as an Undergraduate?
As an undergraduate, I encountered several challenges that tested my resilience and adaptability. Balancing students' leadership responsibilities with my studies was undoubtedly hectic, often leaving me with limited time to focus on academic commitments. Moreover, students faced numerous problems that were beyond my capacity to handle, adding to the pressure and emotional strain.
Financial challenges were also a significant hurdle, as I had to find ways to sort out my school fees and manage other expenses. The weight of leadership came with its frustrations, as there were many expectations from people, and meeting everyone's demands proved to be overwhelming at times.
The constant juggling between leading and studying created immense pressure, but with time, I gradually learned to cope and adapt to the demands of both roles. It was a journey of personal growth, and through perseverance and determination, I managed to find a better balance and navigate through the challenges more effectively. Each obstacle I faced during my undergraduate years taught me valuable lessons that have shaped me into a stronger and more resilient individual.
What Are Your Career Plans After MKU and How Did You Decide Upon Them?
Enrolling in a sports science course and pursuing a master's in education, which is already in progress. Combining these fields will allow me to further my knowledge and expertise in both sports and education, enabling me to make a more significant impact in these areas. Additionally, I have the intention of running for a political seat in the future, drawing upon the valuable knowledge and skills I acquired while serving as the Sports Secretary in my Alma Mater, Mount Kenya University.
What Advice Do You Have for Continuing and Prospective Students Pursuing Your Course?
My advice to continuing and prospective students pursuing my course is to approach education with passion and dedication. Treat your academic journey as a way of giving life to your dreams and aspirations. Embrace the uncertainty of the future with the knowledge that there is a higher power guiding your path. Keep your heads held high and follow your heart, for it will lead you to the right place. Remember that it is never too late to make a U-turn and switch to something you truly love and are passionate about. Don't be afraid to explore different paths until you find the one that resonates with you.
Additionally, I encourage you to aspire to take on leadership positions. Engaging in leadership roles can be transformative and provide valuable experiences that will shape your life positively. It may not always be easy, but the growth and learning that come from leadership responsibilities are priceless. Embrace challenges with an open mind and a willingness to learn from every experience. Stay focused, work hard, and believe in your abilities. Your education journey is a stepping stone to a brighter future, and with determination and perseverance, you can achieve greatness.
Education is like giving life, it means passion, no one knows what tomorrow holds but at least we know GOD holds our tomorrow, so heads high, follow your heart, it is never too late to take a u turn to something you love also aspire for those leaderships positions they really change life.
How Can Students Make the Best of Their Time While Pursuing Their Course at MKU?
Students can make the best of their time by striking a balance between planning and prayer. Efficient time management is also crucial. Therefore, they should plan their schedules carefully to accommodate academic commitments, personal activities, and relaxation.
Engaging in extracurricular activities can be immensely rewarding, so joining a club or a team provides opportunities for personal growth and networking. Pursuing leadership positions helps develop valuable skills and fosters a sense of responsibility. Participating in sports not only promotes physical well-being but also encourages teamwork and discipline.
Lastly, giving back to their communities by volunteering or engaging in community service initiatives allows students to make a positive impact beyond the campus boundaries. By combining these elements, students can create a fulfilling and enriching experience while pursuing their course at Mount Kenya University
Who Is Your Role Model and Why?
My role model is Sadio Mane, a Senegalese professional footballer who has not only excelled in the world of football but has also made a significant impact off the field. His journey from playing barefooted on the streets of Senegal to becoming one of the best-known players globally is truly inspirational. What sets him apart is not just his talent and skill on the football pitch but his dedication to giving back to his community.
If You Were to Go Back What Would You Do Differently?
First, I would choose to pursue a degree in sports science or sports education. While my journey has been fulfilling, I've always had a deep passion for sports and its impact on people's lives. A degree in sports science would have allowed me to explore this passion further and contribute to the field in a more focused manner.
Additionally, if given the chance, I would have vied for the position of University President. Holding such a leadership position would have provided me with a greater platform to make a positive impact on a larger scale. Using the power and influence of that position, I would strive to create more opportunities for others and build more leaders within the student community. Leadership offers a unique chance to bring about meaningful change and inspire others to reach their full potential
What Is Your Partying Shot?
As I take my parting shot, I can't help but reflect on the incredible journey of serving as the sports minister for the MKU fraternity. This experience has been truly transformative, not only in my role as a leader but also in my personal growth. The opportunity to study in this school was a blessing, and the bond I formed with fellow students, administrators, and non-teaching staff was nothing short of heartwarming. The support and camaraderie within the MKU community made my time here unforgettable. As I move on to new adventures, I carry with me cherished memories and valuable lessons from my time at MKU.
In closing, I extend my heartfelt wishes for blessings upon MKU and students. May the school continue to thrive and inspire countless individuals to achieve greatness in both their academic pursuits and extracurricular endeavors.
Thank you, MKU, for an unforgettable chapter in my life.
God bless You All
Article by: Heri Manyara