Tell us about MKU Got Talent
MKU Got Talent is an event organized by my office- Entertainment Secretary for recognition of talents in Mount Kenya University students. It is an event that attracted over 300 students who participated in different acts namely, singing, acting, rapping, public speaking, debate, stand up comedy, playing of band instruments, eating competition and participating in spoken word.
MKU got talent started via registration online using a link that was provided to all students. Later on, preliminaries were held starting on Thursday 15th June, 2023 at the Indoor Games Arena which went on a weekly basis until the finals.

The semi-finals were held on 7th July 2023 at the Indoor Games Arena where 27 competitive acts made it to the finals which was held on Friday, 14th July at the Mwai Kibaki Convention Centre main Auditorium from 7pm to 4am in the morning of 15th July.
The final attracted approximately 2,000 students that graced the event as the hall was 3/4 full for the finals. Popular TikToker and content creator who is also a Journalism student at MKU – Benson Mutuku also known as Bena Wa Malines graced the stage with an electrifying performance on his comedy. The special Guest from the school administration was the Deputy Dean of Students Madam Purity. Other invited guest was the KUSO President among other student leaders.
How did you come up with the idea for this University competition, and what inspired you to create an event similar to "America's Got Talent"?
The idea for the Mount Kenya Got Talent University competition was born out of a desire to showcase the diverse talents of students at the university and create a platform for students to showcase their talent. Additionally, it's to showcase the rich talent pool in Mount Kenya University and encourage students to participate more in Co-curricular activities. I'm pleased to have achieved this milestone in my manifesto
Can you provide some examples of the types of talents or performances that participants showcased in this competition?
Singing, Rap battle, spoken word, Poetry, Comedy, Magic and whistling, DJ'ing, dancing, playing instruments, public speaking, debating, acting and drawing, Eating competition
Who is the Overall winner of MKU Got Talent Competition Season 1?
Agape band (singers)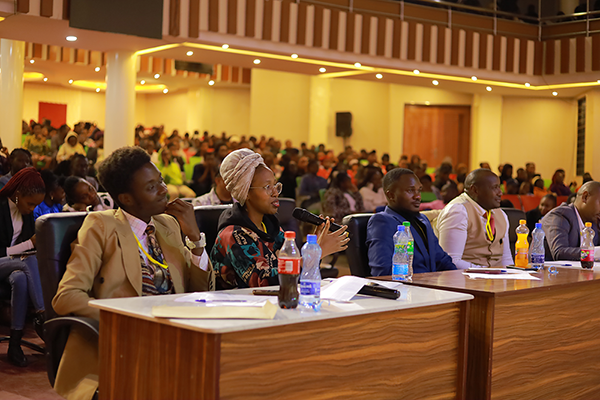 Have you established any partnerships or collaborations with other organizations or professionals in the industry to enhance the competition's quality and reach?
Yes, we have partnered with Freshboy production which will help our upcoming artists to train and record songs for free, and poetry. We have also partnered with Kenya national theatre and one of our judges was from the national theatre.
Can you share some success stories or memorable moments from this 1st Edition editions of this competition? And how they may influence the growth and development of the event?
Firstly, the first success story is realizing MKU Got Talent in MKU. For the first time ever this is happening in Mount Kenya University.
Secondly, I was amazed at the huge talent Mount Kenya University students have, hence they need more such opportunities to horn their trade.
Thirdly, uplifting talent from scratch to another level and giving talented students a platform to showcase their talent, sharpen it and also attract interested parties to poach and support them.
Interestingly, it was pleasant to see unexpected talents emerging, heartwarming performances, and instances where performers overcame personal challenges to shine on stage. Such moments could inspire future participants, leading to the growth and development of the event.
As the Entertainment Secretary, I am pleased to be the pioneer in this marvelous stride where students can sit and enjoy entertainment from one of our own, is something to celebrate as a success.
Everything around the event is a success to me
What kind of support and resources do you provide to the winners or standout performers of the competition to help them further their careers or talents?
The first and greatest support and resource is always giving someone a platform to prove themselves.
Winners were rewarded with trophies, an opportunity to record songs and a certificate of participation. The judges also issue awards for the outstanding performance. It was branded judges award.
It's important to state that winners received various rewards from the guests that graced MKU Got Talent Sn 1 whereby some got tickets for major events, hoodies, gift hampers.
Every participant received a certificate
How do you incorporate feedback from participants, judges, and audience members to continually improve the competition and make it more exciting and engaging each year?
Indeed, improvement has to be made to enable more talented students to come out and make MKU Got Talent an oasis of talent ideation.
In the just finished competition, we sought ideas through setting a call center, use of social media and asking students to visit my office to pitch their ideas.
Plans are underway to streamline the whole process even better.
Have you faced any challenges or obstacles in organizing this competition, and how have you overcome them?
Yes, for every success there must be hurdles that you have to face. Logistics of putting the dream on paper to full actualization is not an easy task. Thankfully, I had a team of dedicated members who burned the midnight oil to realize this dream.
The target was to make MKU Got Talent happen. The method was focus and focus.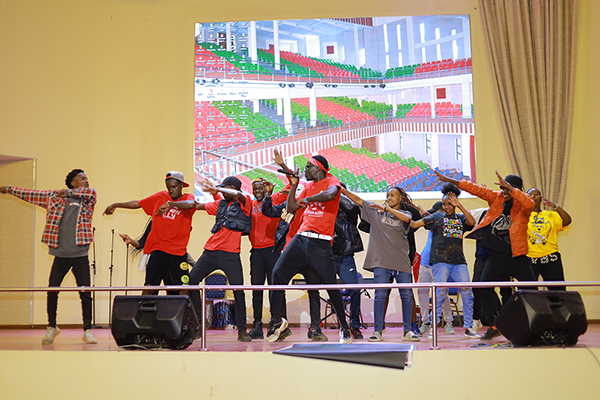 What are some of the changes you suggest will help improve MKU Got Talent?
I encourage more players in the field to step up and attend Sn 2 of MKU Got Talent to poach talent, Support the event and more media participation.
Sponsorship will motivate winners to aim higher and harness their skill. I also propose to have a media tour to our local radio and TV stations, TV and other platforms. We should also have more professional coaches that can train our contestants to bring out the best in them since I believe that talent can generate income.
Imperatively, all this will go to waste if this program is not implemented every semester to allow students have an opportunity to participate, showcase talent, allow for poaching of talent, ecetra.
What is your vision for the future of this University competition? How do you hope it will evolve and impact the lives of the participants and the broader community?
The goal of MKU Got Talent is to give our talented students a platform to showcase their talent, entertain fellow students, showcase the rich talent pool in Mount Kenya University and encourage students to participate more in Co-curricular activities.
As thus MKU Got Talent will lead to a plethora of opportunities for winners and fellow students providing a launching pad for students' artistic careers
The hope would be that the event's impact would extend beyond the participants, enriching the broader community with inspiration and entertainment.
What is your partying shot?
I want to thank and appreciate all the students and staff who graced the event, participants who stepped up and gave their best performance. I'll also recognize the administration which gave us support to actualize this sensational event, and implore them to ensure MKU Got Talent is held every semester to allow all students to participate and showcase their skills.
Thank you and may God bless you All.