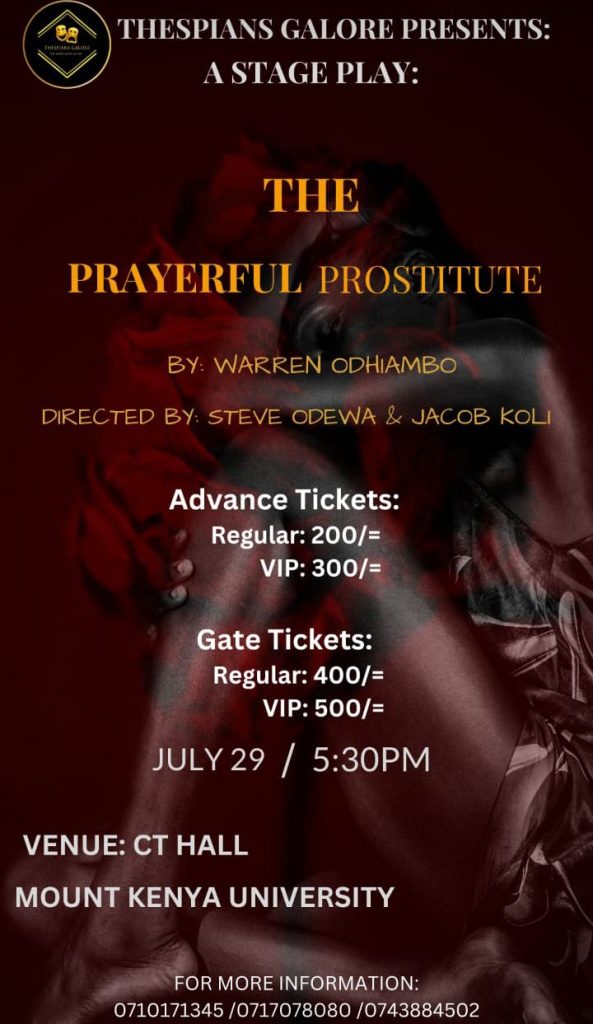 Thespians Galore presents a play titled "The Prayerful Prostitute" a story of an enigmatic young woman who finds herself entangled in the complexities of life's choices. Set in a world of turmoil and redemption, the play delves into themes of love, faith, forgiveness, and the resilience of the human spirit. The Paly is full of drama, humor, and poignant moments.
Play will be held at MKU Thika Main campus, Chancellors Tower Hall on 29th July, 2023 starting at 5:30 PM.
Booking are ongoing at a subsidized fee
Regular Advance Tickets: Ksh 200/=
VIP Advance Tickets: Ksh 300/=

Gate Tickets
Regular Gate Tickets: Ksh 400/=
VIP Gate Tickets: Ksh 500/=
For Reservation and Inquiries contact
0710171345, 0717078080 OR 0743884502
Come One Come All, we support our own!!
Article by: Heri Manyara