Tell Us About Yourself (i.e. home county, nationality, constituency, personal maxim etc.)
My name is Brian Omondi Juma, a graduate from Mount Kenya University school of Engineering with a Bachelor's Degree of Technology in Computer and Electronics Systems. I joined Mount Kenya university in September 2019 and completed my studies in December 2022 and I am now awaiting the forthcoming graduation which will be on 4th August 2023. I am a 24-year-old Kenyan from Siaya county, Ugunja constituency.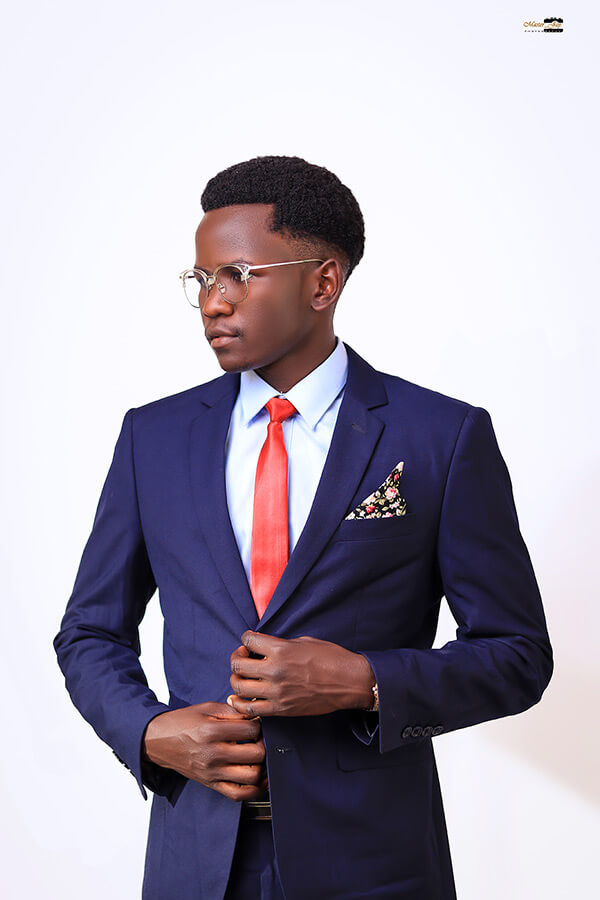 What are your hobbies/ interests?
I have interests in photography, a skill which I learnt by myself after the covid period in the year 2021. I started as a freelance street photographer, taking photos of majorly Mount Kenya University students and when I realized the potential of making it a side hustle, I decided to go professional. I currently own a brand – Master Jay Photography which provides all kinds of professional photography services from outdoor to indoor studio photography and events coverage.
My other hobbies are body building, building DIY electronics and programming.
In three words describe your academic journey
My academic journey has been interesting, challenging and fulfilling. I found it interesting because I was studying a course that I was passionate about. Staying focused throughout the 5-year course in order to complete it in the shortest time possible was the most challenging part. Completing the course in time with a first-class degree honors and having done a brilliant engineering project was the most fulfilling part.
How did you become interested in the course you pursued, and finally joining Mount Kenya University?
I have always had interest in any form of engineering since I was a kid. Growing up watching my dad working on electronics as a technician fueled my love for electronics and computers, therefore when I discovered that Mount Kenya University offers a course that allow one to explore both the computers and electronics world at a go, I knew this was the right place for me.
Are there incidences you recall while growing up that made you choose your course?
Yes, growing up in a family with a dad who is the local electronics repair man challenged me to want to know more about how things work. The fact that my father could fix the most complex electronics circuits with barely any secondary education opened my eyes to the possibilities that lie around studying how to modern technologies work and how they are built.
What was your most exciting moment in campus?
The most exciting moment was when I was when I attended the 2021 CEPU Idea Camp, a joint initiative by both Mount Kenya university and Kenyatta University. This was my best moment because the opportunity presented itself at a perfect moment when I was feeling overwhelmed with school work. It made me realize the importance of taking a break from school work and career once in a while and engaging in other activities away from your work and personal gadgets.
I got to meet other smart people at the event, teamed up and engaged as we worked together to solve the challenge that was set before us within the set deadline while having fun at the camping site at the same time. It was a great learning and fun experience.
What Co-curricular activities did you engage in during campus?
When I joined campus, I wanted an activity that would allow me to stay physically fit and engaged, so I signed up for a gym membership at the school gymnasium. I have since developed interest in body building which has since become part of my lifestyle.
The most important thing that I have achieved in this activity is the ability to have a high level of self-discipline, build resilience, staying focused and keeping my mental health in check.
Can you tell us about your course?
My course, Bachelor of Technology in Computer and Electronics Systems involves studying the principles of computing from the working of the most basic component of a computer- a transistor, to the development of a whole computer network that serves a certain community. We also study how electronics work from the most basic components and circuits to building fully functional gadgets and systems. This course is applicable in many fields of engineering including all it sectors of any organization.
What will you miss most about your undergraduate experience?
I will miss the social life that is comes with this stage of education. I enjoyed the diversity in our institutions as we get to meet and interact with people from all walks of life, understand different cultures and make new friends and teams that I believe will last beyond the campus life. I am looking forward to experiencing the life out of school and I believe I am well prepared for it.
What are your career plans after MKU and how did you decide upon them?
I am open to explore the vast opportunities in the job market related to my course. My goal is to find and settle in a career in the technical sector. I am also aiming to grab any opportunities that may enable me to further my studies outside the country. My dream is to come up with an electronics manufacturing company in the future and I believe this will be possible as Kenya is currently taking the mantle as Africa's technological hub.
What most excites you about your future?
I am excited about finding a stable job, climbing up the ranks in different sectors and becoming a key player in the development of the society. I am also excited about starting my own company and businesses, grow and become a key player in providing job opportunities for other Kenyans and participate in general community development back at home. I am where I am because the local communities have a support system that enable people like me to continue with their studies and become who I have become, I am more than grateful and excited about becoming a member of the society who is able to give back and support other people with the same needs.
What advice do you have for continuing and prospective students pursuing your course?
Know that you are in the right place, find a specific branch of the course that you are highly passionate about, be it the hardware or the software side and do as many projects as possible in that specific field to perfect your skills. This will enable one to have a clear path of what they would like to settle on in the future and pin point their end goal. It is easier to achieve a specific, measurable, achievable, relevant and time-bound (SMART) goal.
Did you have a favorite lecture, or lecturer in MKU?
I do not have a specific favorite lecturer. I generally appreciate the work done by the lecturers in delivering the content of the entire coursework the best way possible. Despite facing some challenges along the way, I am glad that I overcame them in time.
Who is your role model and why?
My mother is my role model. I feel lucky to have been raised up by a mother who knows the value of having good education despite having not completed her primary education due to the hardships she was facing back then. I admire her for becoming who she is now and raising us to be who we are because I have grown up seeing her toil and moil to provide for my family and making sure that she has instilled the best morals in us and prepared us enough to be resilient and tough to face any challenge in this life.
If you were to go back, what would you do differently?
I would start working on my passions at an earlier age, engage more with like-minded individuals and find more exposure to my field of studies.
What are some of the challenges you encountered during your Undergraduate?
Engineering is quite expensive to learn especially I you are looking to do something extra from what is taught in class. My biggest challenge was finding money to fund my projects as most of the gadgets that I are needed for prototyping are quite expensive besides some being locally unavailable and I had to get them shipped from abroad. I am glad that I had a side hustle which provided me with the sum of necessary funds and I got to do many amazing projects during my studies.
What's your favorite dish?
Rice and chicken
What book are you currently reading?
Think and Grow Rich by Napoleon Hill. It is a great philosophical text book on individual achievement that came directly from the experiences of hundreds of America's most successful men. I believe that by the time I will be flipping the last pages of the book, I will be equipped with great techniques to achieve individual success by applying the knowledge I have acquired all over the years effectively and focusing on individual growth.
What's your parting shot?
I would like to tell anyone that is studying to build passion in their field of study so as to make their experiences interesting and fun. I always like referring to my high school (Mangu High School) motto "Jishinde Ushinde" when faced with any challenge in life, by first recognizing that one has to conquer their own fears and weaknesses in order to conquer life. I frankly thank you for giving me this opportunity to tell my story, and I hope that someone out there will derive something from it.
Compiled & Written by Heri Manyara herimanyara95@gmail.com