In a world where pursuing a medical degree demands relentless dedication and hard work, Naomi Nyanchama Omoso stands out as a shining example of passion, perseverance, and a well-rounded approach to life. As a final-year medical student at Mount Kenya University School of Medicine, Naomi has not only excelled academically but has also discovered her love for weightlifting.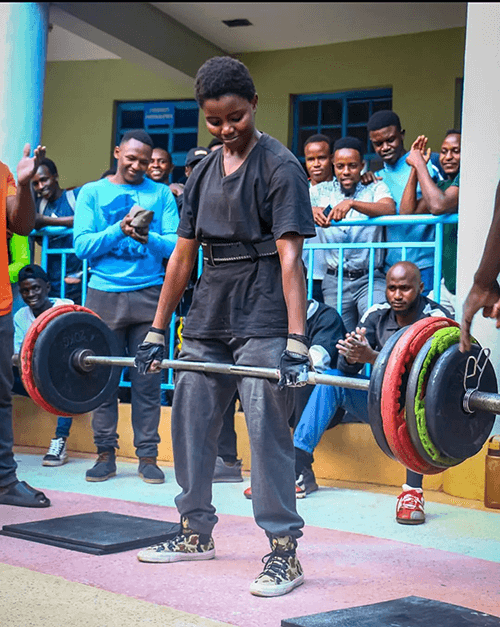 In this exclusive interview, Naomi shares her insights, advice, and experiences as both a medical student and a weightlifter, demonstrating the transformative power of pursuing multiple passions.
Medical school demands dedication and hard work, and Naomi's advice to continuing and prospective students is to prioritize their studies. Creating a study schedule, developing effective study habits, and maintaining physical and mental health are essential. She emphasizes the importance of seeking support, building a network, and staying motivated and focused on achieving both academic and personal goals.
She says "Prioritize your studies: Medical school requires a significant amount of dedication and hard work. Make sure you allocate enough time for your studies and stay organized. Create a study schedule, set goals, and maintain a consistent study routine. Develop effective study habits and Find study methods that work best for you. She adds.
Naomi also stresses the value of mentorship and the belief in one's abilities. "Seek mentorship by finding mentors who can provide guidance and support throughout your medical journey.
They can offer valuable advice, share their experiences, and help you navigate the challenges of medical school"
When it comes to making the best use of time at Mount Kenya University, Naomi recommends staying updated with medical advancements, actively participating in classes and clinical rotations, gaining clinical experience, and exploring various specialties and career options. These opportunities not only enhance knowledge but also provide valuable insights into the medical field.
Reflecting on her own journey, Naomi shares advice she would give to her younger self: to stay true to herself, prioritize self-care, find balance between academics and athletics, embrace failure as a learning opportunity, listen to her body, and have patience. These lessons have guided her in both medical school and weightlifting. Naomi's weightlifting journey began a few years ago and has been transformative. Starting with determination and guidance from experienced trainers, she gradually improved her technique and form. Weightlifting became a metaphor for life, teaching her focus, determination, and resilience. She set goals, dedicated countless hours to honing her skills, and embraced the challenges that came her way.
As a female weightlifter in a male-dominated sport, Naomi broke stereotypes and redefined what it means to be a powerful woman. She found strength, confidence, and a sense of pride in her own capabilities. Her weightlifting journey has taught her to trust her body, persevere through adversity, and embrace her own strength.
To ensure safety while engaging in weightlifting as a co-curricular activity, Naomi highlights the importance of consulting with healthcare professionals, maintaining proper form and technique, gradually progressing, warming up and cooling down, and prioritizing nutrition, hydration, rest, and recovery. These precautions minimize the risk of injuries and promote long-term joint and muscle health.
When it comes to dietary guidelines and nutritional considerations, Naomi emphasizes the importance of caloric intake, macronutrients (protein, carbohydrates, and fats), meal timing, hydration, micronutrients, and the use of supplements if necessary. A well-rounded diet supports muscle growth, recovery, and overall performance.
To track progress and set realistic goals, Naomi advises starting with a baseline, setting specific and measurable goals, breaking them down into smaller milestones, and maintaining a workout log. This approach helps to stay focused, measure progress accurately, and experience a sense of accomplishment along the journey. As Naomi stands on the precipice of new beginnings, combining her passion for fitness with her medical knowledge, she hopes to inspire others to embark on their own journeys of self-discovery. Her weightlifting journey has not only transformed her physically and mentally but also equipped her with the resilience and dedication vital to a successful medical career.
Naomi Nyanchama Omoso's story is a testament to the power of pursuing one's passions, finding balance, and embracing the challenges that.
Away from weight lifting and the rigorous academic life, Naomi loves to spend her time Volunteering in medical camps and awareness campaigns, hiking, cycling and swimming. She also enjoys cooking "I relish discovering new recipes, experimenting with flavors, and enjoying the process of creating delicious meals or desserts" Omoso narrates.
Her favorite dish is Ugali, kales and beef stew. She's currently reading The immortal life of Henrietta Lacks
Article Written by:
Heri Manyara – herimanyara95@gmail.com